Olmsted Elementary End-of-Year Celebrations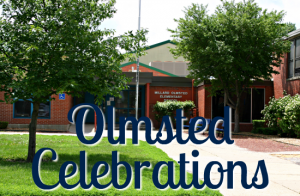 We'd like to invite you to attend several end-of-year activities as we honor the proud history of Olmsted Elementary. Please review this Olmsted Elementary End-of-Year Celebrations PDF for all dates and events. (Bosnian_Olmsted Elementary End-of-year Celebrations; Spanish_Olmsted Elementary End-of-Year Celebrations)
One event in particular that we'd like to bring your attention to is the Olmsted Legacy Celebration taking place on Thursday, May 23. Join us for an Open House beginning at 4:15 p.m., with a brief ceremony at 5:30 p.m. Activities will conclude at 7:00 p.m.
Event: Olmsted Legacy Celebration
Location: Olmsted Elementary School
Date: Thursday, May 23, 2019
Time: Open House 4:15pm to 7pm; Ceremony 5:30pm
We hope to see you there as we share fond memories and honor the great educational experiences that have taken place in the Olmsted building throughout the years.