May 2020 Design and Construction Update
District Administration is working closely with our design team (DLR Group) and contractors (Stahl for Olmsted Elementary School; Rochon Corporation for UHS Fitness Center, UHS/Webster main entry, and Webster computer lab; Two Rivers Group for UHS HVAC). Below you'll find an updated summary of actions that have been taking place for multiple construction projects.
PROJECT UPDATES
UHS Fitness Center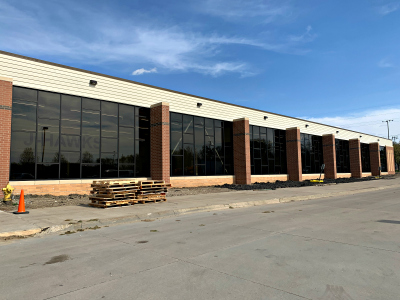 Part 1:

Fitness Center / Multi-Purpose Room Construction

Brickwork is done.

Interior block is complete.

Square duct and round duct is installed; spiro duct has been installed.

Window work is completed

Floor installation in both areas has begun and will likely be completed by May 15th. All other finishes are completed.

Part 2:

Gym Lobby Restrooms

Part 3:

Gym Lobby

Work is completed in this area. 

Part 4:

North Gym Hallway Locker Rooms

Installation of individual shower units have been completed

Epoxy finishes have been installed on walls and floors

New restroom partitions have been installed

Final finish work related to the ceilings will be completed summer 2020

Part 5:

"Trophy Case Hallway"

Currently unavailable for use. The hallway is closed due to work being done in the new construction area

Doorways to the fitness center are all installed

Patching and painting of walls and bulkheads is completed.

Part 6:

North Gym Balcony Bleachers
Overview of space: The new space will feature an approximate 3,800 sq ft multi-purpose fitness area with flooring to support a host of activities such as yoga, cheer practice, and dance practice. Also featured will be an approximate 9,300 sq ft weight/fitness area that will accommodate free weight training, and speed and agility enhancement with a single lane of track and of turf. Approximately 4,900 sq ft will include circulation areas, lobby, new

concessions, and new restrooms that support activities in the two existing gymnasiums. The Fitness Center will support general wellness of all UHS students as the spaces will be incorporated into the daily academic Physical Education (P.E.) program. Spaces may also support Urbandale Community Education Classes.
New Olmsted Elementary
Included below are progress photos of the new Olmsted Elementary school as of 4/27/20.
Olmsted Elementary is scheduled to open fall 2021 (for the 2021-22 school year).

Topsoil has been stripped, and stockpiled, and building rough grade

Due to high groundwater and soil moisture content, a "Rammed Aggregate Pier" system is being used to stabilize the soil and foundation of the new structure. This requires 770 holes to be bored around the building perimeter, and load bearing interior walls, that are then filled with aggregate to form a solid, durable pier that can then be incorporated into the foundation system. Pier was completed the 2nd week in January. 

Foundations are poured

Much of the fabricated steel and precast concrete panels are fabricated, and have been shipped and are on site. Area A precast concrete is installed on the safe room

Steel erection is nearly completed at building D. Currently, the full steel "skeleton" has been erected. Bar joist and floor decking are installed. Roof decking will be installed soon.

Blockwork is completed at the firewall between buildings C and D, as well as area A..

Blockwork for the safe room is completed on the first floor.

Underground utilities are being installed

Subgrade preparation for the main parking lot is in process

All storm sewer

  main lines are installed
PPEL PROJECT UPDATES
UHS and Webster Elementary Main Entry Renovations; Webster Computer Lab Renovation
An important part of providing a safe and secure environment for all students, staff, and patrons of the Urbandale CSD is consistently evaluating facilities to maintain a balance of a welcoming and secure campus. Following further evaluation, door entry/lobby modifications are being planned at the Urbandale High School Main Entry and the Webster Elementary Main Entry in order to provide immediate and direct access to the Main Office upon arrival at each school building. In addition, we will be removing the tiered floor in the Webster Elementary computer lab in order to make the floor flat so the space can be better utilized. 
Urbandale CSD School Board provided approval of the

Design Development

Urbandale CSD School Board provided approval of Rochon Corporation as our construction partners for these projects.

Webster computer lab remodel has been completed.

Demolition of the areas to contain doors to the offices was completed over winter break. 

The stairway at the HS entry has been installed. 

Temporary filler panels have been installed at Webster 

Doors have been installed at the HS; awaiting replacement for door hardware.

Webster entry work will occur after the correct door hardware arrives. The frames are on site. The doors are being stored by the installers

Anticipated completion date for the UHS and Webster main entry renovations is summer 2020.
UHS HVAC Renovations
Indoor Air Quality and Environmental Comfort are key to enhancing the learning and working environment of all Urbandale CSD facilities. Over time, building system components age and need more than regular maintenance attention to maintain a healthy and comfortable environment. The oldest remaining portion of the original high school, the north gymnasium area, has HVAC systems that have exceeded their intended life span. Over the course of the 2019-20 school year and the following summer, the District is investing in HVAC upgrades to replace aged equipment, as well as add cooling to these spaces.
Urbandale CSD School Board provided approval of the

Design Development

Part 1: South Gym

All existing duct work and mechanical units have been removed and new work on the gym floor level has been completed

We are back in the gym space at this time

Remaining work to be completed in the evening

Part 2:

Weight Room

All existing duct work has been removed and the new duct is installed

Part 3:

Locker Rooms, Training Room, Auxiliary Spaces

The installation of new duct work is completed in the South gym hallway Electrical work and drop ceiling work is completed

Sprinkler extensions are completed

The locker rooms and the training room are operational

Part 4:

Balance of Work

Welding completed in the Wrestling Room and Fitness Room

All four of the units for the Gyms are installed on the roof. 

Additional work continues in this area and work will be conducted in the evening hours

The balance of work to complete the project to include the North Gym and surrounding area and the Wrestling Room has begun; great deal has been completed

Electrical service for the fitness center and part of the HVAC renovations has been completed.

Gas service has been installed, and lines to the rooftop units have been installed.

South Gym is being heated by new rooftop units. 

All old air handling equipment has been demolished

Boilers in the gym are have been demolished and most old piping demo is complete

New Aerco boilers are being installed

Controls programming has begun